Live Chat Software
Live Chat Software is real time web based tool for online businesses that allows your company representatives to communicate with website visitors in real time. Highly interactive web chat program provides 24*7 online help and assistance to website visitors and customers in few mouse clicks.

Online chatting tool with all advanced features is helpful for increasing your online sales and business productivity by improving customer satisfaction. Software is easy to understand and can be operated even by layman users without requiring specified technical skills to operate the live chat software. Live interaction utility is suitable for all kind of industries i.e. from large scale to small scale industries to increase sales and customer satisfaction.
Help and assist your website visitors to find what they need, before they leave your site…!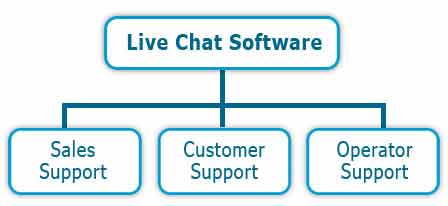 Sales Support:

Increase Sales – Allow you to initiate interactive chats with website visitors to provide immediate online assistance about products and removes barriers in making confident purchase decision.

Increase Customer Confidence – Helps to build customer confidence by assuring them that a live website operator is just a click away to resolve queries in simplest way.

Convert Visitors to Buyers – Provides superior real time customer support to assist and deliver valuable information about product promotions in no time that helps to convert visitors to regular buyers.

Reduce Operator Costs – Multiple visitor interaction, canned answers and other advanced features provide quick responses to visitors that results in decreasing operators costs.
Customer Support:

Real-time chat – Software helps your customer care executives to connect with website visitors in real time to provide excellent customer support and live assistance.

Offline messaging – Facilitates customers to send offline messages along with their contact details even when operator is offline or not available.

E-mail chats – Chat transcripts can be emailed to visitor's specified mailing address at the end of every chat, hence whole chat details can be viewed later by customers for future assistance.
Operator Support:

Operator-Operator Chat – Allows website operators to chat with other during ongoing chat session.

Multiple Chat Support – Allows company representatives to chat with more than one visitor concurrently without any interruption.

Chat Request Notification – Visual and sound alerts notifies website representatives whenever customer request for chat or send some message.

Canned (saved) Messages – Pre-written Canned messages make it easy for website executives to answer customer questions in less time.

Visitor Typing Text Preview– Allows operators to see whatever visitor types on chat window, that enables executives to find information before the visitor even finishes typing.

Chats Transfer – Ongoing chat process can be easily transferred from one executive to other for providing detailed information of products.

Block IP Address – Facilitates operators to block IP address of mischievous visitors who are interrupting between chat sessions.

Push Web URL's – Website representatives can push web url's to provide quick assistance and relevant information to visitors.